Pool Heaters We Carry
Heat Pump Pool Heaters
Cool Environment Corp is here to make sure that all of your pool heating needs are taken care of. We know how nice it is to extend your pool's season with a heat pump pool heater.
We want you to enjoy your pool earlier in the spring and later in the fall. Cool Environment carries Rheem and Gulf-Stream heat pump pool heaters. Call us today!
Along with Pool Heaters we also carry and install:
Salt Systems, Automation Systems, Pool & Spa Pumps, Pool & Spa Filters, Pool & Spa Lights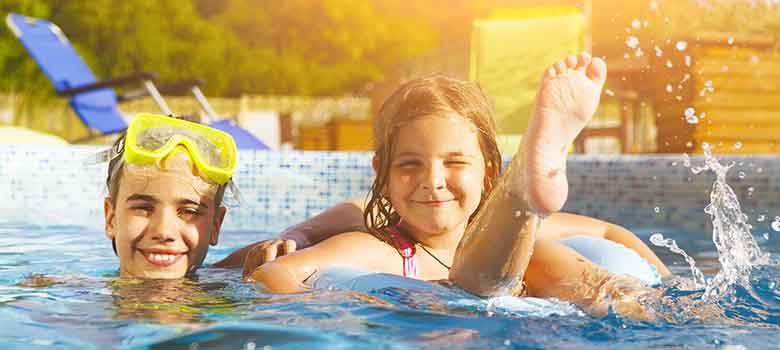 ---
Download Brochures & Technical Data of our Featured Pool & Spa Heaters
---
Rheem Heat Pump Pool Heaters
---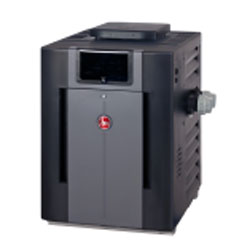 Features
Microprocessor-Controlled Thermostat
The Rheem Digital gas heater is equipped with a microprocessor-based control. This control allows you to set your pool and spa temperature precisely at your preferred setting just by pressing an up or down temperature control button. The digital display tells you when the water is being heated and notifies you when your target temperature has been reached.
Self-Diagnostic
Troubleshooting a Rheem gas heater has never been easier. The Rheem Digital has on-board diagnostic controls that let the user and the service professional know what is going on with the heater at all times. The display uses real English, with no cryptic codes to decipher.
Remote-Compatible
The Rheem Digital is compatible with most major pool control and remote systems on the market today. Any two- or three-wire remote can connect to the Rheem Digital and be integrated into the pool control system of your choice. The display clearly shows the heater is under control of a remote system.
Run Time and Cycle Meter
Yet another industry first, the Rheem pool heater can report how long it has run and how many times it has fired. This is valuable feedback for the service professional. Multi-unit installations can monitor the run time of each unit and balance out the duty load, thus avoiding over working one individual heater.
Flame Strength Indicator
Rheem leads the way with the first control in the pool industry to monitor and measure the pilot flame signal. Known for our high quality, leading edge commercial boilers, it just made sense for Rheem to use this existing commercial technology on our residential pool heaters. This little tool is a service tech's dream. Rheem also uses this function on the end of line test, making sure every heater leaves with a robust flame signal.
---
M206A Copper BTUH: 199,500 | Cupro-Nickel BTUH: 180,000
M266A Copper BTUH: 266,000 | Cupro-Nickel BTUH: 240,000
M336A Copper BTUH: 332,500 | Cupro-Nickel BTUH: 300,000
M406A Copper BTUH: 399,000 | Cupro-Nickel BTUH: 360,000
Gulf-Stream Heat Pump Pool Heaters
---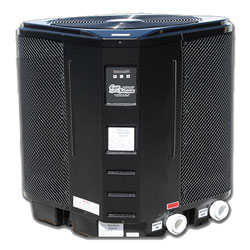 Features
Super Sized Evaporator Coil
This is where efficiency begins (4 sided design), Higher Performance in colder weather, Largest in the industry
100% Full Flow Titanium Turbo Heat Exchanger
Lifetime warranty, 100% Titanium, Turbo design for maximum heat transfer into your pool, All 2" plumbing to maintain efficient full water flow
Sensible Automation
Capable of automating your pool/spa combo, Controls valves and thermostat operation, Compatible with all external automation
Final Run Test
Tests every component, in every unit, everytime, A "Perfect" unit every time for the ultimate piece of mind
---
HE-90 RA (90,000 BTU 6.3 COP)
HE-110 RA (110,000 BTU 6.4 COP)
HE-125 RA (125,000 BTU 6.3 COP)
HE-125 TA (Heat & Cool / Reverse Gas Defrost)
HE-150 RA (136,000 BTU 6.0 COP)
HE-150 TA (Heat & Cool / Reverse Gas Defrost)
HI-110 RA (110,000 BTU 6.4 COP)
HI-125 RA (125,000 BTU 6.3 COP)
HI-150 RA (136,000 BTU 6.0 COP)
Pool Pumps, Lights & Accessories
Cool Environment is here to help you enjoy your pool more!
---
Pump Installation & Replacement
Pump Service & Repair
Submerged Light Installation & Replacement
Light Service & Repair
Pool Accessory Installation, Service & Repair
---